—under construction—
Accommodation
>
General information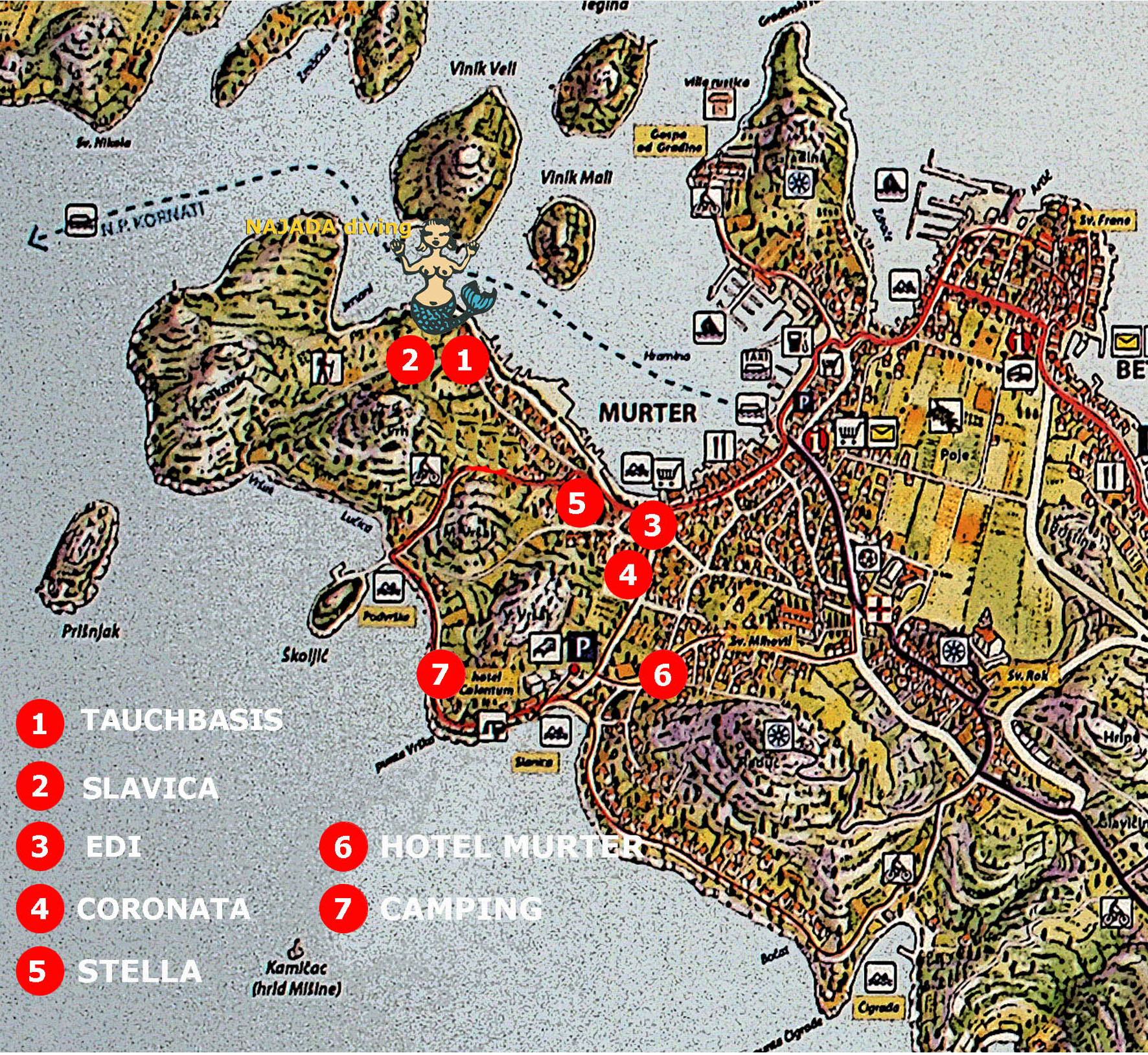 Modern private apartments, usually for 1-4 persons. Most apartment houses are with self-catering, but there is also a possibility to order breakfast (extra charge) in some houses. All apartments have a well-equipped kitchen, bathroom with shower or bath tub, a toilet, mostly a balcony or a terasse. There are parking places in the courtyard or in front of the house. Included in the price: cleaning after departure, towels and linen, electricity, gas, water, cutlery…There is a tourist tax of about 1,5 EUR / day / person to be paid extra. All apartments are between 5-20 minutes walking distance from the two biggest beaches in Murter and the dive center.
In the side menu you will find some examples. The prices reflect only a dimension. Please, send a mail for a detailed offer to: anna.nokela@najada.com

Cancellation of Apartments
In the case of apartments we act mostly only as mediator. We want to draw your attention to the fact, that apartment reservations are simple rent contracts, where a cancellation is not foreseen. If you do not use your apartment, you are in any case obliged to pay the full price, unless a replacement guest for the accommodation is found.
Dive Center Apartments back

1

Dive Center Apartments ***

There are three apartments above the dive base, about 500m from Restaurant Mate. You have a wonderful view to the sea from the main terrace. Very quiet, the compressors are outsourced. The 4-person-apartment has two bed rooms, a big kitchen, bathroom and toilet .The two-person-apartments have one bed room and a combined kitchen/living room. There is one studio (all in one) with garden view in the second part of the house. Wifi and a/c are included into the price, as well as usage of the beach in front. Parking is in front of the house.

1 week starting from 560 EUR (2 persons apartment in high season, excl. tourist tax)
1 week starting from 455 EUR (2 persons apartment in low season, excl. tourist tax)

The prices reflect only a dimension. Please, send a mail for a detailed offer: anna.nokela@najada.com
House Slavica back

2

House Slavica***

The comfortable apartment house is next to the dive center. Four 2-person-apartments are facing the see and one flat has a garden view. In all apartments there is a kitchen, sat-tv, parking and a/c (surcharge). The guests can use the private beach complimentary. In each apartment one can put in an extra bed (surcharge).

1 week starting from 735 EUR (2 persons apartment in high- season, excl. tourist tax)
1 week from 630 EUR (2 persons apartment in off-season, excl. tourist tax)

The prices reflect only a dimension. Please, send a mail for a detailed offer: anna.nokela@najada.com
Apartment Edi back

3

Apartment Edi***

The comfortable 4-person-apartment is directly at the seaside, next to Restaurant Mate. There is a perfect view overlooking Luke beach. The apartment has is a kitchen combined to a spaceous living-room, sat-tv, parking, wifi and a/c. There is a possibility of putting in an extra bed (surcharge). The area is quiet, about 8 minutes walking distance from the dive center.

1 week starting from 595 EUR (2 persons apartment in high season, excl. tourist tax)
1 week starting from 455 EUR (2 persons apartment in low season, excl. tourist tax)

The prices reflect only a dimension. Please, send a mail for a detailed offer: anna.nokela@najada.com
House Coronata 1+2 back

4

House Coronata 1+2 ***+

In these apartments – managed by a friendly family – you can book accommodation with or without breakfast. You can choose between 6 apartments with two bed rooms and one apartment with one bed room only . All apartments have a kitchen and living room, balcony, shower, toilet, parking a/c and wifi. There is a possibility to add an extra bed (surcharge) and to use the grill in the garden/covered guest area (surcharge). The area is quiet, about 8 minutes walking distance from the dive center.

1 week starting from 875 EUR (4 persons apartment in high season, excl. tourist tax)
1 week starting from 630 EUR (4 persons apartment in low season, excl. tourist tax)

The prices reflect only a dimension. Please, send a mail for a detailed offer: anna.nokela@najada.com
5

Apartment House Stella ****

In these modern and very comfortable apartments you can book overnight stays with or without breakfast. You can choose between 7 apartments for 2-4 persons each or three double rooms. All apartments have a bedroom, kitchen and living room combined, balcony, bathroom, parking, safe, air conditioning and wifi. There is a whirlpool on the roof and a swimming pool in the garden. Fitness and sauna rooms are also available. Each apartment has an extra bed (double bed). In addition to the breakfast / dinner it is possible to use the barbecue in the garden / covered guest area, as well as the laundry service (all for an extra charge). The area is quiet, about 5 minutes walk from the dive center.

1 week starting from 1575 EUR (2 persons in high season, excl. tourist tax)
1 week starting from 1015 EUR (2 persons in low season, excl. tourist tax)

The prices reflect only a dimension. Please, send a mail for a detailed offer: anna.nokela@najada.com
Hotel Murter back

7

Hotel Murter

The Hotel is located on the hill of Raduč, offering an impressive view of the village of Murter, Betina, Tisno, the Velebit mountain, the surrounding islands, islets and cliffs, as well as the nearby harbour. The family-owned hotel is a cosy place with great Dalmatian food, wonderful atmosphere and shows a good example of true Dalmatian hospitality.

Hotel Murter offers a Health & Spine Lifting program and guests can also enjoy spending time at the Nado Health Center.

The location is very quiet, about 15 min. walking distance to the dive center.

For further details, contact directly: info@hotelmurter.com